Digital Liverpool
Details

Hits: 616
Liverpool Acoustic Spotlight #18 Preview of Liverpool Acoustic Live 25/9/09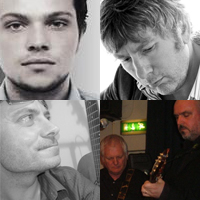 1. Ben Blance - Ten Butterflies
2. Rob Clarke - September
3. The Southbound Attic Band - Southbound Train
4. Rae Clark - Stretch
(right-click to download)
Or listen online below 

Problems hearing sound? Download latest Quicktime Player or  Download latest Realmedia Player  
The next Liverpool Acoustic Live gig is taking place on Friday 25th September 2009 at the View Two Gallery on Mathew Street. The doors open at 8.00pm and the music starts at 8.30pm.
Entrance is £4 on the door, or £3 in advance from contact[at]liverpoolacoustic.co.uk
As always, we've got four great acts for you to enjoy on the night.
 Ben Blance
Ben Blance is originally from the north east of England but is moving to Liverpool on a full-time basis from this month. He is an exceptional singer-songwriter as anyone who has every seen him play live or has listened to his cds will testify to.
Ben has two solo CDs Ten Butterflies (2003) and Fragile Moon (2007) which are available to buy from his website. He's due to release a new album of solo material in the autumn, and we'll let you know once it's available.
Ben has recently completed an extensive tour of Ireland with the group The Jukebox Gypsy myspace.com/jukeboxgypsymusic and their album of the same name is available to buy via their myspace profile.
Rob Clarke cut his musical teeth as part of the Catacoustic collective, and has developed his own style of playing and songwriting. Rob is equally at home writing songs about his home town of Liverpool and the wider world. He's got a number of self-produced albums available to buy from his myspace profile, including 2008's Long Way North (read the Liverpool Acoustic review here). Rob is taking advance orders on his new album Portraits due out this autumn.
The Southbound Attic Band 
The Southbound Attic Band is a duo comprising of songwriter Barry Jones on vocals and guitar, and Ronnie Clark on bass and slide guitar. Together they play an addictive blend of Americana-tinged folk rock based around Barry's excellent original songs - modern songs with a traditional feel.
The band has a debut EP called Southbound Train, on which they're joined by piano player Geoff Hall. The EP can be bought from to following places.
Quicksilver Music in Market Street, Southport Cafe D'Art, Chapel Street, Formby myspace.com/cafedart News from Nowhere on Bold Street, Liverpool newsfromnowhere.org.uk
Rae Clark
is a local singer-songwriter whose musical influences span a wide range of musicians, from Sigur Ross and Pink Floyd, to Fairport Convention and Fleet Foxes. He has an album called Wee Monkey which is currently available to buy from him at his gigs, although it will soon be in shops and online to make it easier to get hold of.

 
Liverpool Acoustic Spotlight #18
If you get the chance, please support your local artists by emailing them, joining their mailing lists, leaving them comments, going to their gigs, and buying their music direct from them where possible.
The Liverpool Acoustic Spotlight is produced and presented by Graham Holland on behalf of the Liverpool Acoustic website. It is also available on the Internet courtesy of Art In Liverpool FM (Defnet Media), and is a proud member of the Association of Music Podcasting - supported by Libsyn
The theme music is King of the Faeries by Andrew Ellis from his CD Midnight On The Water.